Where Are You Trying to Go?
Spanish Level 6
Learn Online, via Zoom
January 9 - March 4

Tuesdays & Thursdays 7:30-8:45pm | Saturday 9:30am-11:00am (US-Central)

Early Bird Pricing Ends January 1 (code: EarlyBird0123)

Registration Closes January 3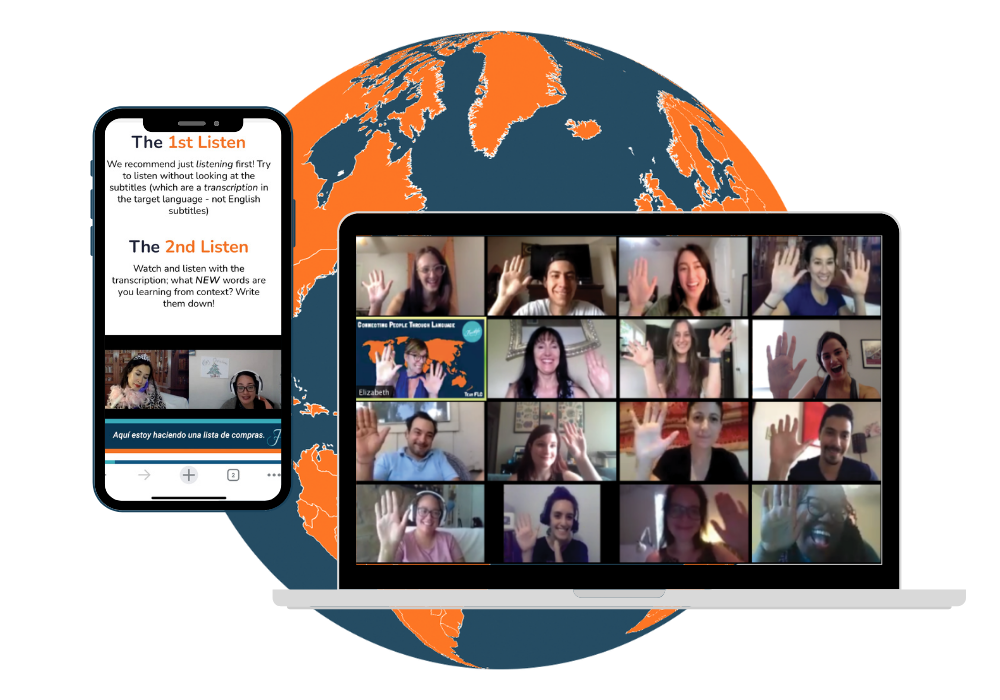 Sharpen Your Social Game!
By the end of this class, confidently engage with colleagues and friends about your past or future plans. Connect through culturally-rich topics from literature to social media, classical music to hip-hop, & everything in between!
What You Get: Weekly Breakdown
Virtual classes (75 - 90 min.) up to 3x / week
Choose your own schedule

Customized Prep Lesson Videos
Build confidence & watch before class

Dynamic Practice Activities
Crossword puzzles, dialogue videos, quizzes, answer keys, & more

Pronunciation Exercises
Audio Files & Personalized Feedback

Community Discussion
Connect and engage with fellow learners

Conversation Coaching
Meet 1 on 1 outside of class

Virtual events (monthly)
Practice speaking in relevant context

Choose Your Plan & Enroll Today!
All Times Listed in US-Central
3x / Week
Tuesday / Thursday 7:30 - 8:45 pm + Saturday 11am - 12:30pm
Backed by our progress guarantee! For highly committed learners who want to progress at the fastest pace.
2x / Week
Tuesday and Thursday 7:30 - 8:45 pm
For dedicated learners who want to progress at a steady pace! Work toward your goals while getting a weekend break.
1x / Week
Tuesday or Thursday7:30 - 8:45 pm
For busy learners with jam-packed schedules! Work toward your goals at a slower pace - one that meets your schedule & life needs.
Just looking for conversation practice?
Join us for Saturday Cafés: 90 minutes of culturally-rich group conversation practice led by an expert instructor.

Single & bundle packages available.

Save big on language learning!
2022
Weekend Sales Event