La Diversidad Cultural: Las Fiestas, La Comida Y El Idioma!
¿Lo sabías? Fun facts about
Día de los Muertos
:
Mexican culture views death as a process of life, rather than stigmatizing it, which is why Día de los Muertos offers festive, lively vibes to those who celebrate it

The holiday historically falls between the maize harvest season (which happens to coincide with that of Halloween)

UNESCO recognizes Día de los Muertos on the list of Intangible Cultural Heritage of Humanity, noting the importance of this holiday in maintaining cultural diversity in the face of growing globalization
What Is Día De Los Muertos?
Día de los Muertos, or Day of the Dead, predates the arrival of the Spanish to the western hemisphere. And while it seems spooky, it offers stark contrasts to our Halloween traditions! ¡Recuérdalo! While Halloween focuses on the frightening aspects of death, Día de los Muertos celebrates and honors the lives of loved ones who have passed away*. Let's take a closer look at the parades, costumes, dances (and so much more!) that make Día de los Muertos such a festive and culturally-rich holiday.

*The Mexican people celebrate death by painting their faces with colorful skulls and spending time in graveyards with their deceased loved ones! ¡Qué magnífico!
One way in which the living pay tribute to their deceased relatives? La Danza de Los Viejitos, or the Dance of the Little Old Men. This folkloric dance is native to the state of Michoacán.
Words To Know When Talking About Día De Los Muertos
"To speak a language is to take on a world, a culture." ― Frantz Fanon
As language and culture go hand in hand, get a richer understanding of the holiday with these essential terms. #TeamFLCtip: listen to the audio recording below, repeating each word twice, to sound more like a native speaker! Pronunciation: the cross-fit of language (and scientifically proven to help adult learners reach their language goals with more ease)!
Papel picado (cutout banners) – Mexican folk art based on colorful tissue paper with intricate, festive designs


Iluminación (illumination) – Ceremony that takes place in the cemetery to guide souls back to their altars


Alfeñique – A confection made from sugar paste.
Alfeñiques are used to make sugar skulls, flowers, and other typical arrangements


Calavera

(skull) – A colorful representation of a human skull. These skulls are usually in the form of sugar arrangements (alfeñiques) or hand-painted

decorative

pieces




Calaca (skeleton) – Skeleton figures that represent death are very prominent in all Day of the Dead celebrations


Careta – Mask worn by dancers at the end of the celebration to scare away the dead


Cempazuchitl – Marigold in English, is the flower of the dead in Mexico. The flower's scent and color are said to attract the souls of those perished back to their family's ofrenda


Golletes – Ovular, pink pastries placed on altars to symbolize the sweetness of life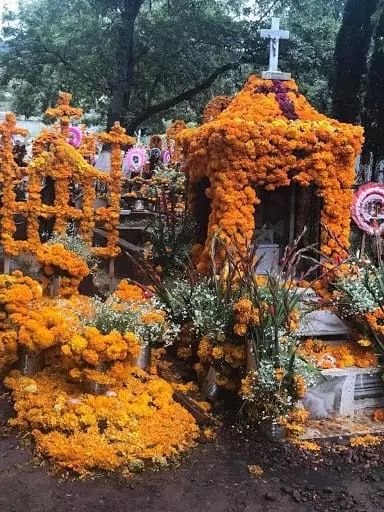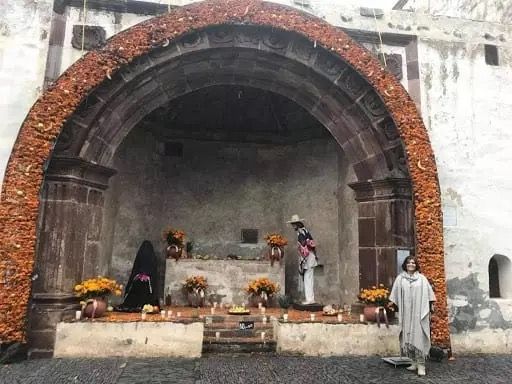 The Three Stages: Día De Los Muertos
Celebrations typically last two days with three distinct stages
1.)
Día de los Angelitos
(Day of the little Angels)
The holiday kicks off on November 1st at 12 am, when the spirits of departed children (or little Angels, as described in the holiday) are encouraged to make their ways back to their families for a reunion lasting 24 hours. Here, family members cherish and provide tribute to their deceased young relatives.


2.) Día de los Difuntos (Day of the deceased adults)
El Día de los Difuntos is similar to Día de los Angelitos, only that it pays tribute to departed adults. This celebration occurs on November 2nd at midnight.

3.) Día de los Muertos (Day of the dead)
For the rest of the day on November 2nd, people take to the streets with skull painted faces and folkloric attire to celebrate the holiday as we all know it. Many cities and villages throughout Mexico host parades and highlight traditional dances.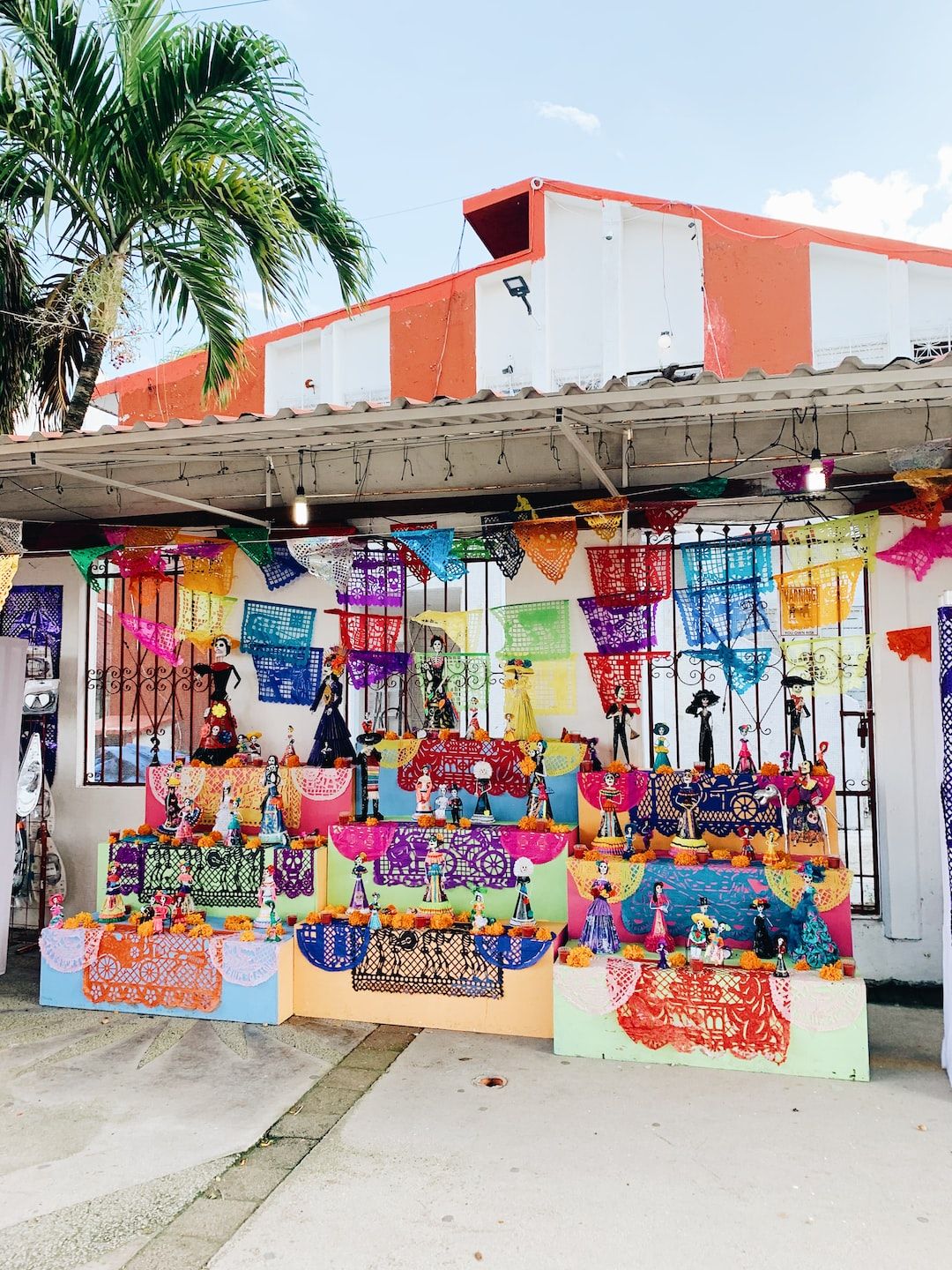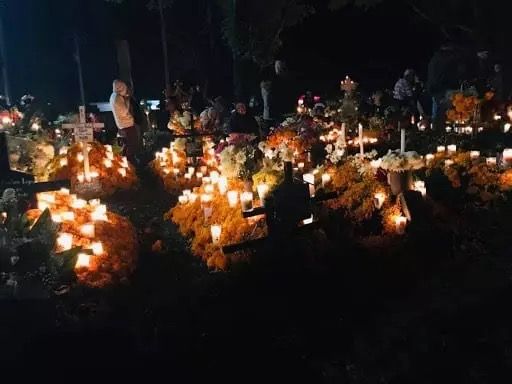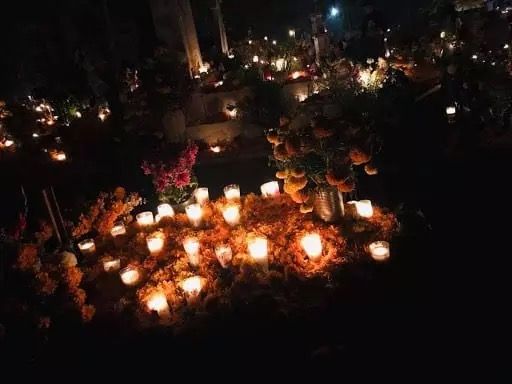 Ofrendas (Offerings/Altars)
Family members build altars, or ofrendas, in their homes and in graveyards to pay respect to deceased relatives. These ofrendas offer water to quench the thirst of the spirits after their long journey back to planet earth. They also display food, photos of relatives, and a candle for each departed loved one. Beyond these staples, altar decoration varies from family to family. Oftentimes, a toy represents the loss of a child, whose name may be written on a sugar skull.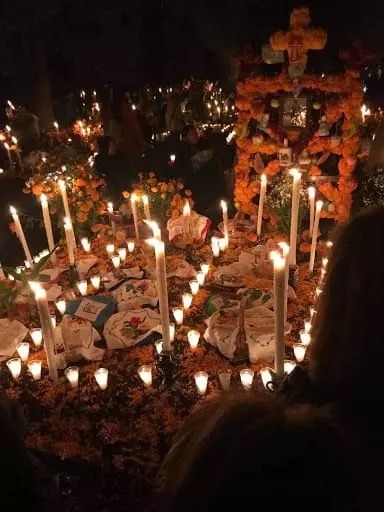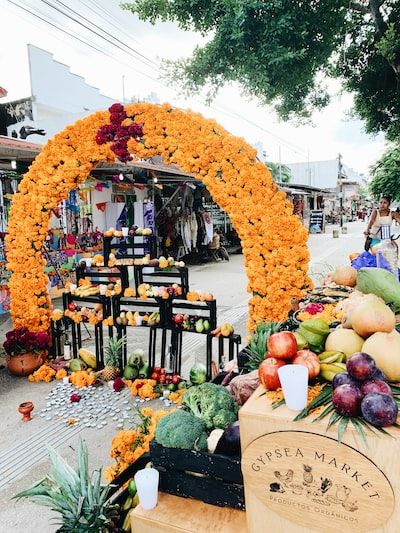 It's no secret that Mexico is home to colorful, delicious, and world-renowned dishes. During
Día de los Muertos
, you'll find families passionately cooking the favorite dishes of their dearly departed to place a plate onto the
ofrendas.
One popular dish offering?
Pan de muerto
, or bread of the dead – a sweet bread containing anise seeds and decorated with bones and skulls.
This mega-altar (pictured right) contains iconic Mexican foods beloved throughout Mexico such as: red rice, mashed pinto beans, and champurrado for dessert – a warm chocolate-based drink made with corn flour, milk, and other ingredients.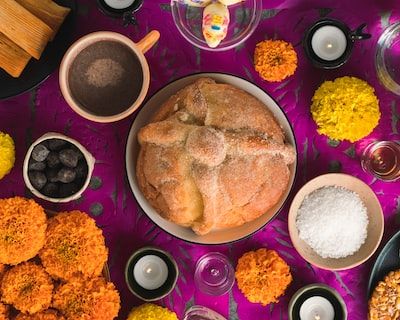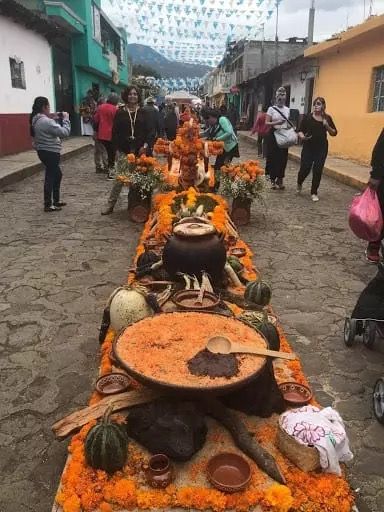 How Can I Celebrate Día De Los Muertos? (Cómo Celebrar El Día…)
Connect Through Music!
¡Qué padre!
Listen to this Spotify
Playlist
& transport yourself to Mexico during the
Día de los Muertos
celebrations! Two of our favorites?
'El Zapateado'
by Las Cafeteras and
'Para Cuando Muera'
by Óscar Chávez.
Find Culturally-Rich Events Near You!
For our fellow Austinites, we recommend celebrating with MACC, the Biliteracy Club Communities of Austin, and Frida Friday ATX at their virtual event:
Día de los Muertos 2020!
Put Pen to Paper!
We challenge you to engage in the cultural richness of
Día de los Muertos
this fall by writing a
calavera literaria.
These fun, compositional verse epitaphs are written and read out loud during this holiday to point out the trivialities of life and help us appreciate the now.
C
heck out this article
to get started on your own!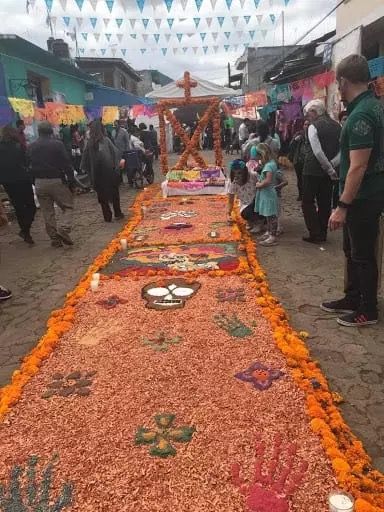 Photo credit: Alicia Ibarra
Embrace the true meaning of this holiday:
Día de los Muertos carries a valuable lesson embedded within its subliminal symbols – we should not take life and death too seriously. We are passengers of this world and our existence here is best lived when we cherish the little moments, and appreciate life as it is, day-by-day, with its highs and lows.