Join us in our virtual community for our learner-celebrated
SATURDAY CAFES: Drop-In!

You bring the coffee, we bring the fun learning!
Any single Saturday during an active session:

Oct 17-Dec 10

Saturdays 9:30-11am + Saturday 11am-12:30pm, depending on level.

First-time students: use code DROPIN to join for $10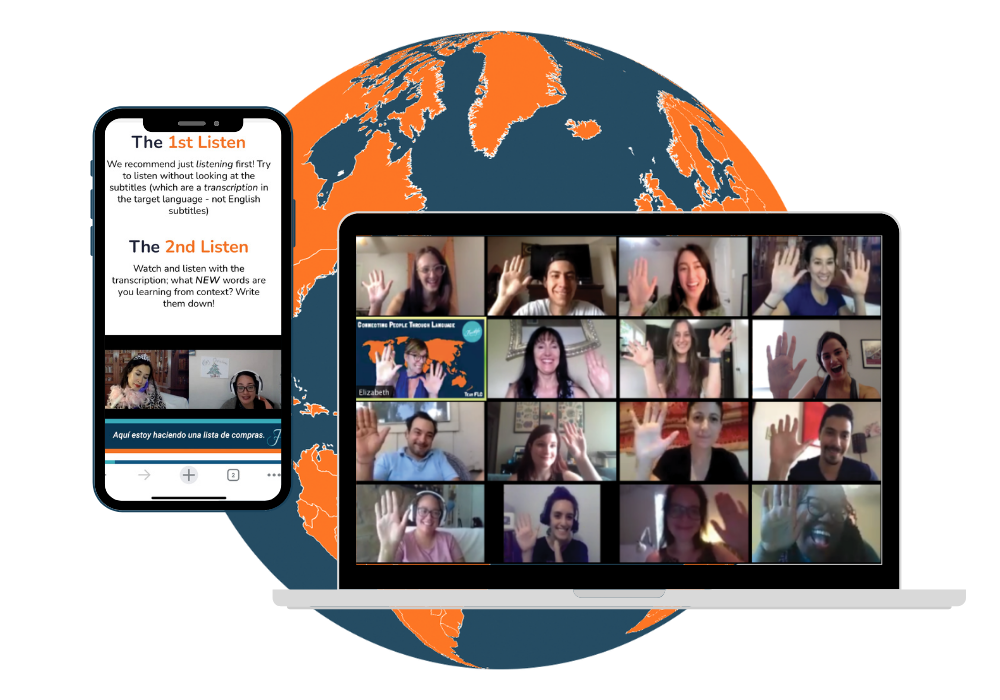 *While 'cafes' are included in the cost of your 3-day per week course, learners love our café-only option too! Drop-in for 1 'café' or buy a package deal for your language! Offered for
Spanish
and
French
.
Email
support@freestylelanguages.com
for information on levels and class times.
A cornerstone of our model, these 90 min. fun & conversation-based sessions led by our expert instructors offer interactive and culturally rich opportunities to truly engage in the everyday themes you need to succeed in truly speaking the language.

#notjustanAPP #morethanaMeetup
Each 'Café', dynamic, yet casual in nature, offers 3 essential elements:
Everyday Conversation
Guided by our instructors, you'll feel more confident engaging in organic, spontaneous conversations while having fun with our dynamic online tools (including options for
pronunciation
improvement & so much more!)

Relevant Language to YOU
We believe in the power of a learner-driven model. This is your opportunity to simply ask about or delve deeper into the concepts interesting to you and the group whether it's work-related, travel-themed, etc. Prefer to play a round of Jeopardy in the language? (No, really; it can be all fun and games!)

Culturally-rich, Multimedia Activities
Think music, lyrics, film and shows in your target language: learn the language as it's truly spoken. #authenticmaterials
"My favorite part of my week! You really start talking more and more in cafes. There is no fear of speaking because everyone in class is motivated to learn. It's okay to make mistakes and it's okay to learn – because we're all learning and growing together."
Barbara, Spanish
Save big on language learning!
2022
Weekend Sales Event